Mission
We are member friendly – service driven, focused on trust and honesty. We dedicate all our efforts to bringing members the best financial products and services available while maintaining financial stability and security. We strive to offer our employees a pleasant environment, continuing education, and fair compensation.
History
Brainerd BN Credit Union was organized on November 25, 1940 as Brainerd NP Credit Union to serve the needs of the Northern Pacific Railway workers in central Minnesota. In 1970, after a merger changed the name of the local railway, Brainerd NP Credit Union changed its name to the name we use today, Brainerd BN Credit Union. 
Over time, our field of membership has expanded to serving BNSF Railway & BN Credit Union workers and their spouses, as well as blood or adoptive relatives (and their spouses) of current Brainerd BN Credit Union members.  
Brainerd BN Credit Union strives to provide its members with a family-like atmosphere. We are "Member Friendly – Service-Driven". 
Membership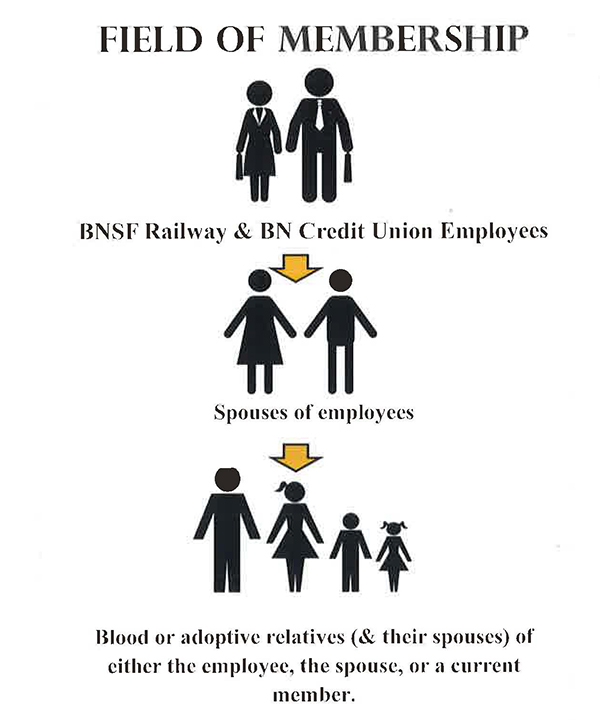 Contact a Member Service Representative to start your membership application today!
ADDITIONAL NOTES
When an individual member leaves the field of membership, that member and all individuals who became members by virtue of his/her membership may continue as members
The surviving spouse of the  qualified member, and the blood or adoptive relatives of either of them and their spouse may become members
Organizations composed for the most part of the same general group as the Credit union membership may become members.
Why a Credit Union
Member owned


Owned by the members who have a share (regular savings) in the Credit Union.

Not for profit 

Credit Unions return their profits to their member, not shareholders like banks and other financial institutions. Credit unions do this by having fewer fees on services, lower rates on loans, higher returns on savings and personal services.

Insured

Credit unions are insured by the National Credit Union Administration (NCUA) which insures credit union deposits up to $250,000

Accessible 

As a member of the Credit union you can use a nationwide network of over 30,000 surcharge-free ATMs (Allpoint)